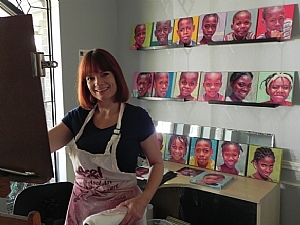 This project combines giving with art appreciation and offers a unique way to support children in need with a voice in their life.
Proceeds from the sale of these portraits are used to meet the needs of the children portrayed, such as scholarships, school supplies, food and clothing. The children contribute to the artwork by drawing or writing on the background paper onto which their portraits are mounted. My aim is to give them a face and a voice, to be "seen and heard". In addition, I hope that the children gain a sense of pride by helping create a piece of art which not only brings joy to the buyer but also improved living conditions for themselves.
In this first series I met with children in Haiti at New Life Children's Home. My decision to portray this group of kids mostly in a joyful mood stems from the desire to help us all remember that they are kids wanting to play, laugh and be loved, just like our own children.
Painting portraits to me is all about exploring our shared humanity, the connection we have to each other and our common Source. Each face tells a story and communicating this to others is my goal. As these portraits are given new homes my hope is to bring the world outside our own little circles a little closer. The children I paint as part of this project are so often unseen, living in the shadows of our world, mostly invisible in our daily lives; yet they are no different from the rest of us, and equal to all of us. I aim to make visible their quiet dignity, the grace and joy they display under the most difficult circumstances. Living among us in our homes, even if only in paintings, they remind us of our blessings and connection to each other as human beings.
To learn more about the inspiration behind "Moni's Kids" and the children themselves, I invite you to follow along on my blog.

To see all of the portraits, please go to my paintings page here.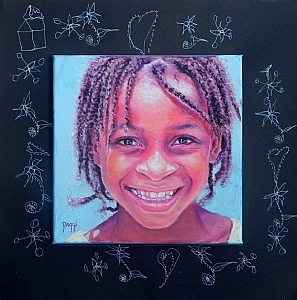 "Vanessa" 16x16 pastel by Daggi Wallace and Vanessa
$500 framed SOLD

a

Vanessa is 10 years old and such a cutie! I was trying to get a photo of her blowing a bubble with the bubble gum we brought ( note to self: test out the gum beforehand to see if it actually makes good bubbles!), but it just wouldn't work. She giggled throughout and kept at it. I decided to leave the blue gum showing in the side of her mouth. Vanessa is the youngest of three children (Viladrin is her brother and Youseline her older sister), all from Cap Haitien. She was very sick with malaria when she came to NLCH in 2002 (she was around 15 months old). Her mother was mentally ill and unable to care for her children. Vanessa loves to smile and sing and wants to be a nurse when she grows up.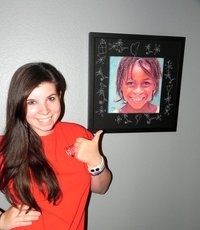 Sam with framed portrait of Vanessa

Please, remember that all proceeds from the sale of the portraits will benefit the children.

How you can help
If you'd like to help with this project there are a few options. You can make donations to help offset the cost of this project by clicking on the "donate" button below. We are in the process of applying for 501(c)3 non-profit status and expect to be approved within a few short months.
You may also send a check to:
P.O.Box 1621
Coppell TX 75019-1621
Any amount is greatly appreciated and I thank you!



And, most importantly, you may help by purchasing a portrait of one of the kids by clicking on the "buy now" buttons by each painting!



I also invite you to sign up for my newsletter or blog to receive regular updates about Moni's Kids.

I thank you for your support!